PatientsLikeMe Newsletter Issue 19 - July 2012
MONTHLY MUSINGS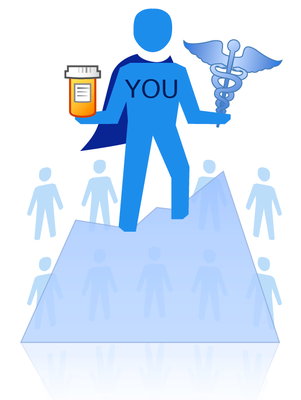 There's been a lot of buzz about "big data" and how it has the potential to change everything. 
Earlier this year, the White House even started a big data initiative—noting that when we "extract knowledge and insights from large and complex collections of digital data…[we can] help accelerate the pace of discovery in science and engineering, strengthen our national security, and transform teaching and learning."
Did you know that you are contributing to big data at PatientsLikeMe? As of July 2012, PatientsLikeMe members have shared…
This data, in turn, is reflected back to you to learn from, and it's also used to advance research.  Over the last five years, our PatientsLikeMe research team has published 27 studies, including a recent "hat trick" of three published studies in one week.  We've also shared your aggregated data with our partners, such as the trailblazing researchers behind ALS Untangled.  Finally, our data-sharing platform and advocacy for openness have been discussed in more than 1,500 publications.
As Fast Company states, "Big changes are ahead for the health care industry, courtesy of big data."  We couldn't agree more.  So thank you for continuing to share your data, and in the process, helping the world at large see the benefits. 
- Kate, Emma, Liz, Jeanette & Sharry
JOIN THE CONVERSATION
Have you poked around the forum recently?  We now have lots of different rooms to meet your needs.  For example, did you know about the Eye, Ears, Nose and Throat Room?  Or the Heart, Blood and Circulatory Room?  Find your favorite room(s) and check out some of these active threads below.
Need help with something on the site?  Visit the PatientsLikeMe Site Help Room for answers from longtime members.
Newsletter archive
Jul 2013
May 2013
Apr 2013
Mar 2013
Feb 2013
Jan 2013
Dec 2012
Nov 2012
Oct 2012
Sep 2012
Aug 2012
Jul 2012
Jun 2012
May 2012
Apr 2012
Mar 2012
Feb 2012
Jan 2012
Dec 2011
Nov 2011
Oct 2011
Sep 2011
Aug 2011
Jul 2011
Jun 2011
May 2011
Apr 2011
Mar 2011
Feb 2011
Jan 2011
Dec 2010
Nov 2010
Oct 2010
Sep 2010
Aug 2010
Jul 2010
Jun 2010
May 2010
Apr 2010
Mar 2010
Feb 2010
Jan 2010
Dec 2009
Nov 2009
Oct 2009