Male, 70 years
Featherston, South Wairarapa
First symptom

Diagnosis
Deceased

Jan 17, 2014
Interests
See less
---
About kiwicafe
I have enjoyed 70 years of fun, creativity and adventure, started on a Mountain in Wellington, New Zealand. Age 21, I shot out the door to Sydney then New York, Hollywood and, 43 years later, returned to Aotearoa NZ. Still creative, doing sort of okay, it's certainly a mystery to me. I have projects I would love to complete via film | photography | writing, will these ever get done . . . maybe, maybe not :) Honestly, I have no idea. Sure I would love to be positive in this belief but today that's exactly what it is . . . One Day at a Time. I love Nature the Great Nurturer. . 
www.kiwicafe.com
 is my Blog
 MND/ALS . . . what challenges? 

I was officially diagnosed in August 2011. Before that I did my own research with muy lover. We knew what it was and so were not shocked when a neurologist did his tests. He asked me what I thought it was, I told him and he simply nodded his head. 30 years ago I experienced a life changing epiphany. I found meditation. It changed my life. I learned to dismantle the moated scottish castle I had built to protect myself as a child. Then,  23 years ago the next major step of my journey. I found the 12 Steps & 12 Traditions of Al-Anon. I was married to an Alcoholic. I learned to surrender. I learned ancient principles and rigorous honesty which I continue to practice. It is what it is, how important is it, this too shall pass, life on life's terms etc, etc. I found a higher power aka god aka nature, the great nurturer. It didn't only change my life it connected me to who I was to begin with. Now with MND I have those great tools to work with. MND is a whole new journey.My body is disabled, my mind is not. I continue to live a productive life. Sure it's challenging. Muy partner is under enormous stress. I get really frustrated. However life is day by day, moment by moment. I am in no pain, I take no drugs, I do not look for a cause or a cure. I simply try and get on with life. There are no mistakes, this I believe, simply lessons. This disability could be Karma, it could also be Calmer :) it is what it is. We are all  different. I have friends diagnosed just 8 months ago, bulbar and they are going fast. I love PLM. I have made friends in Canada, Hawaii and the Outer Hebrides. Like with my Al-Anon Fellowship I cannot do this alone. Sharing my story via my Blog helps others and other's Blogs helps me. I love philosophy, especially the body mind connection of the ancient Egyptians and the journey of happiness espoused by Epicurus. I am perfectly imperfect :) No one and I repeat no one does it wrong, we all do what we do. Pure and Simple.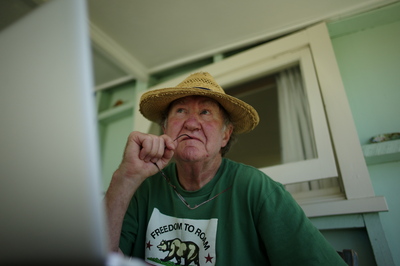 ALS public registry
Activity
Comments: 445 updates, 165 for others

Member since: Sep 26, 2011
Last Login Jan 17, 2014