PatientsLikeMe Newsletter Issue 20 - August 2012
MONTHLY MUSINGS
Do you have fears about your illness that you haven't shared? For example, the fear of "relying on others" or "not recognizing yourself"?
Two recent forum conversations (What part of MS are you most afraid of? and What is your worst fear about PD?) have revealed that many members feel uncomfortable talking about their heaviest concerns with loved ones. As a result, it's been cathartic for many to confess their true fears to other patients. "We all keep a stiff upper lip for our families," writes one member. "This is the one place where we can speak freely."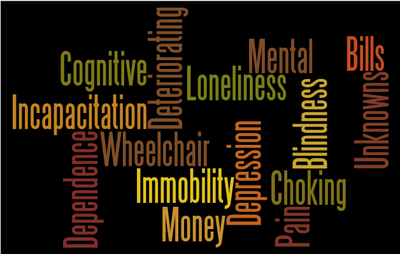 Above is a word cloud of some of the fears expressed in the MS thread. Can you relate to any of them? While some members feel this exercise is "morbid," others argue that facing your fears can help you come to terms with them. What do you think? Have you found that bringing your fears out into the light makes them seem smaller – or more universal?
Chime in on the discussion and discover whether you too can benefit from sharing your deepest worries with others like you.
- Kate, Emma, Liz, Jeanette & Sharry
JOIN THE CONVERSATION
Have you poked around the forum recently? We now have lots of different rooms to meet your needs. For example, did you know about the Cancer Room? Or the Endocrine, Metabolism and Nutrition Room? Find your favorite room(s) and check out some of these active threads below.
Need help with something on the site? Visit the PatientsLikeMe Site Help Room for answers from longtime members.
Newsletter Archive
May 2013
Apr 2013
Mar 2013
Feb 2013
Jan 2013
Dec 2012
Nov 2012
Oct 2012
Sep 2012
Aug 2012
Jul 2012
Jun 2012
May 2012
Apr 2012
Mar 2012
Feb 2012
Jan 2012
Dec 2011
Nov 2011
Oct 2011
Sep 2011
Aug 2011
Jul 2011
Jun 2011
May 2011
Apr 2011
Mar 2011
Feb 2011
Jan 2011
Dec 2010
Nov 2010
Oct 2010
Sep 2010
Aug 2010
Jul 2010
Jun 2010
May 2010
Apr 2010
Mar 2010
Feb 2010
Jan 2010
Dec 2009
Nov 2009
Oct 2009