PatientsLikeMe Newsletter Issue 9 - September 2011
MONTHLY MUSINGS
What type of exercise – and how much – is right for your condition?
We all know exercise is a good thing, but if you're managing a disease, it can be trickier to find the right regimen. How much exercise? What type? How often? The answers, of course, are different for everyone, and it can take time and patience if you don't know where to look. Why not start with patients like you?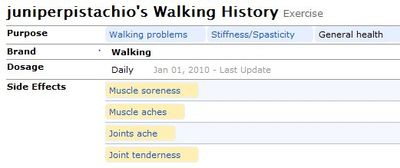 Patients with different conditions have shared what's worked and what hasn't for more than 150 types of exercise. Some common ones include walking, yoga, stretching, aquatic therapy and swimming. How do others rate these exercises? You can find out in the treatment evaluations. As one member writes, "I have felt less need for pain meds, and I have slept better on the nights I walk."
Whether you've found your ideal routine or are still searching, you may want to become part of an "online buddy system." For example, subscribe to one of the forum threads on exercise listed below in the "Join the Conversation" section. Can't find one for your room? Start your own. Let's get moving together!
- Kate, Emma, Liz, Jeanette & Sharry
JOIN THE CONVERSATON
Check out what other patients are saying about exercise in the forum. Then jump in with your own questions and answers. (New members welcome anytime!)
Need help with something on the site? Visit the Technical Help Using PatientsLikeMe Room.
THIS MONTH'S SITE IMPROVEMENTS
Thanks for your continued feedback about improving the site. Here are our top functionality enhancements for September.
EMAIL AND NOTIFICATION UPGRADES
There are so many ways to stay connected at PatientsLikeMe - which can be a blessing and a curse sometimes. Recently, we made some major changes to our email and notification system. In addition to fixing bugs, we've made it easier for you to turn email notifications on/off with the click of a mouse. We've also improved the unsubscribe process. Visit your Email Settings page to update your preferences.

HIDDEN FORUM TOPICS
Wish you could avoid certain forum threads? Consider it done with our new "Hide Topic" button (pictured below). They're not gone forever if you change your mind, however. Simply go to the "My Hidden Topics" page to find them.

AUTOMATIC LOGIN VIA VERIFIED EMAIL
If you're tired of having to log in when you click a link in a PatientsLikeMe email – such as this monthly newsletter – you're going to love hearing that you can now log in automatically via verified email. To turn on this time-saving feature, go to your Account Settings page and select "Yes" as shown below.

NEW OUTCOME SCORE FOR AUTISM
Finally, we've introduced a new outcome score for patients with an autism spectrum disorder (ASD) called the Autism Treatment Evaluation Checklist (ATEC). You'll see that the ATEC score is now displayed in the "puzzle piece" icon in all ASD patient nuggets, as illustrated below.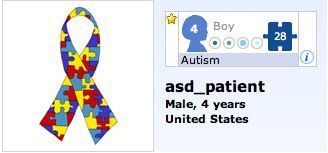 Newsletter Archive
Jul 2013
May 2013
Apr 2013
Mar 2013
Feb 2013
Jan 2013
Dec 2012
Nov 2012
Oct 2012
Sep 2012
Aug 2012
Jul 2012
Jun 2012
May 2012
Apr 2012
Mar 2012
Feb 2012
Jan 2012
Dec 2011
Nov 2011
Oct 2011
Sep 2011
Aug 2011
Jul 2011
Jun 2011
May 2011
Apr 2011
Mar 2011
Feb 2011
Jan 2011
Dec 2010
Nov 2010
Oct 2010
Sep 2010
Aug 2010
Jul 2010
Jun 2010
May 2010
Apr 2010
Mar 2010
Feb 2010
Jan 2010
Dec 2009
Nov 2009
Oct 2009