Finally, diagnosed with MS in March '08 after 18mo of trying to disprove it, it's still been a roller coaster ever since. I'm married & my adult son from my first marriage lives with us- economic necessity & joy! We have 14 German Shepherds, 5 cats, 6 Turtles. I am an avid NASCAR race fan & editorialist, German Shepherd breeder (
http://www.stonecreekshepherds.com/
) writer, avid reader, puzzler, gardener, remodeler, wedding planner & travel agent. I am a Team Leader for RGIS inventory services. MS had consumed most of my life yet I didn't know it, just that something was wrong. Still, the last few years, it took over. Now I hope to live so that I just have it, it doesn't have me.
Mysterious symptoms have plagued me for nearly 30 years, ever since my son's birth in 1977. Clinically I was dx'd MS. I'm part of the 5% who don't show their lesions on an MRI.  The road has been long and tumultous.  In October 2008, my neuro started me on Copaxone. Update Dec '09: Copaxone flunked out in March after 6 months and horrible skin reactions no matter what I tried... and two hospital stays for heart issues that ended up being "the Ms Hug"... have felt better without it.
In the meantime, I want to learn all I can so I can live gracefully with this disease. I've always been of the mindset that I want to know what's going on so I can work with it & not be shocked when something flattens me later on down the road. I've read several books already & I'm exploring exercise... I've begun a heavy supplement regimen that seems to be helping in many ways.  About 2 yrs ago, I noticed I was sexually dysfunctional & that shocked me but now I've read enough to learn that it's not uncommon. I would just like to figure out some solutions to help that area.

When my health isn't consuming my thoughts I'm watching or writing about racing, working full time inventory services and  raising German Shepherds and trying to keep up with the things I enjoy like web-building, puzzles and my gardens.
Since all this began, I had been on Mirapex and begun to experience their nasty little side effect of sudden sleep episodes without warning. My neuro dropped the ball completely on this, blamed my heart and racked up cardio expenses. When I dx'd myself, I left my neuro and found a new one who's been fabulous!
Now, I'm dealing with autonomic dysfunctions: frozen right vocal chord, stopped breathing without warning & swallowing issues causing silent aspiration. The new neuro has run the MRI's and blood work and my O-bands are showing now several times. I entered a study by ONO4641 and enjoyed 2 yrs practically pain free, spasticity free, and feeling the best i ever felt in over 20 yrs. The study came to an end (after i was extended in it) in 2012. I'm now hoping to get on Tecfidera. 
A bit of my life in pictures: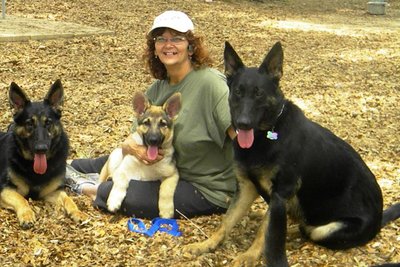 Roush, Orion and Atlas with me at the dog park in 2011.