1) Condition History changes
We have made some improvements to the pages where you add and edit your conditions. Previously, the condition history pages did not use the left hand navigation that the rest of the profile pages use.Now it will keep the same navigation so you'll always know how to access the rest of your profile page activities. And you have an easy way to see and manage all the conditions listed on your profile.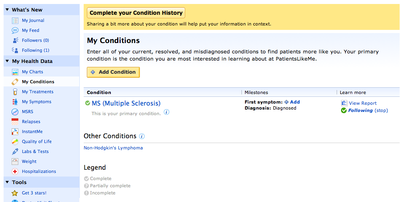 You can add, update, follow and edit your conditions all from one page. Additionally, you'll see a yellow prompt at the top of the conditions page which shows a recommended next step.

If you want to add a new condition to your profile, you can do so using a pop up box (which is what you will to add other symptoms and conditions in most other places on the site) instead of being taken to the separate condition picker page.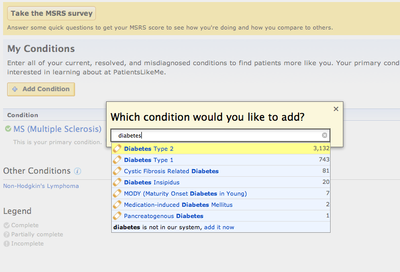 Of course we have guides to show you around the new page. Go on over and take a look!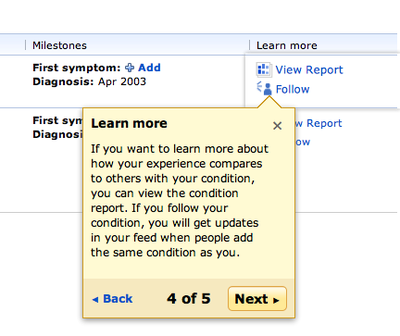 2) Tell your story prompts on condition history entry.
PatientsLikeMe knows that behind every piece of data is a story, so in addition to asking about important dates and answers about your experiences with conditions, we also want to be sure we give you the opportunity to share your story in a way that others can connect and respond to as well.
So now at the end of the condition history form, we've added a prompt to tell a story about their condition.
These stories will appear as feed events for anyone who follows you, and are an important update in your health journal. If you haven't been updating your journal, adding a story about your condition is a great way to get started!


3) Add a story on outcome entry
We've also added the ability to add your story on outcome entry. You've always been able to add stories to your outcome updates, but we've made it easier. Now after you update an outcome score, instead of going back to your profile chart, you'll be taken to a page where you can easily add a story to your outcome score. Additionally, we've unified the outcome history pages so they now show all previous events with the ability to add or edit stories or photos on each update.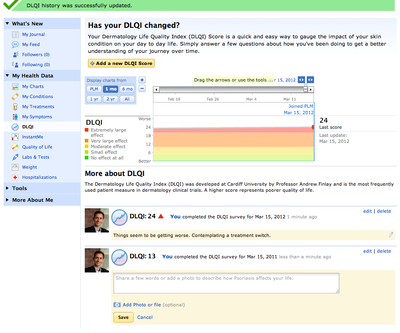 4) Replace spam messages with a nicer message
Unfortunately, sometimes members join PatientsLikeMe with less than good intentions and use the site to spam other members. When that happens, we have the ability to remove all the comments a member left before we caught and suspended their account. Unfortunately, members who received the spam still get a notification from us indicating they received a message. In those instances, we will now replace that spam message with a nicer message from Kate explaining what happened.

5) DLQI in patient search
If you are a psoriasis patient, you can now search for fellow psoriasis patients by their DLQI score on the patient search page.