1) "How can PatientsLikeMe help you?"
New PatientsLikeMe members get a "quick start" guide when they join the site. We ask their age, gender, condition and treatments so we can find patients like them. Now we are also asking new members what they hope to get out of PatientsLikeMe. The answer to this question will be the first entry in their health journal. So if you like to welcome new members, be sure to check out their journals to learn more about what they hope to find at PatientsLikeMe!

PS- If you would like to find new members them and welcome them, an easy way to do that is to follow your condition then all new members will show up in your feed.

2) Adding a new symptom is easier
We've simplified the way you add a new symptom to your profile. Previously when you added a symptom, you needed to add the symptom, then fill out 3 pieces of data before we added the symptom to your profile. 
You may remember that page looked like this: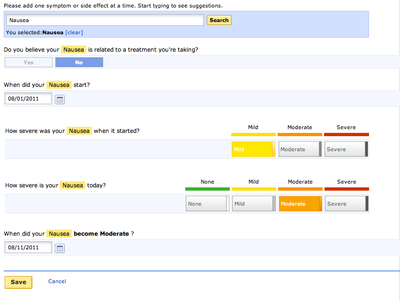 Now when you click "add another symptom" from your symptoms page, you'll see a pop up box like you see in many other pages on the site.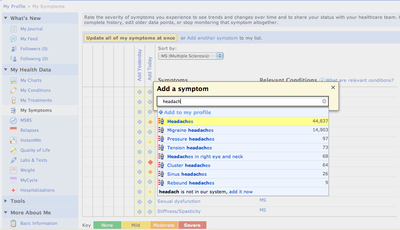 After you add a symptom, you will go to the symptom history page where you can add as much history as you like about the severity of that symptom.
3) Are you a veteran?
If you are a US veteran, we want to know! There is now a new (non-star required!) question on your basic info page that asks if you have ever served in the US armed forces. If you say yes, you can also select your branch.