1) Profile sidebar
When you log in, you'll now go directly to your profile page which has a new and improved navigation sidebar. We've added sections to help you stay organized called Tools (which has things like your Doctor Visit Sheet and 3 Star Guide), What's new (this includes what were formerly called subscriptions), and More About Me. You can open and close each section to show or hide what you would like.

2) Follow is the new subscribe
The follow button (formerly called subscribe) has a new look, but you'll see it in all the same places—profiles, treatments, forum threads, and forum tags. All of your previous subscriptions now appear on your following section, and anyone who subscribed to you appears under followers. Be sure to follow things and people you are interested in to take full advantage of this improved feature!

3) Feed comments and mentions
Now that your feed is not hidden on your profile it's much more robust and allows you to add comments and mention others in your conversations. Your can now comment on activities including data updates from other members and your data updates—which means you can annotate on more than just your InstantMe. If someone replies to your activity, including anything you've commented on, you will receive a notification in the notifications toolbar (located next to your messages). If you want to mention someone else in the conversation you can put @ in front of their username and they will get a notification that they've been mentioned. If someone has a space in their username—like many admins do—use single quotes around their username @'liz morgan'.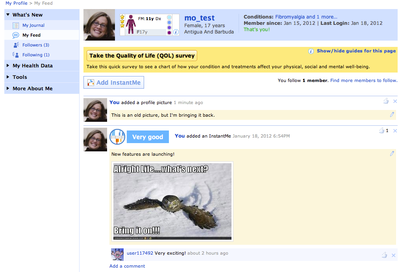 4) Guides
To help new members get started and existing members brush up on all that we have to offer, we've added more guides to explain how some of these new features work. If there's something you'd like to see explained, please send an email to support@patientslikeme.com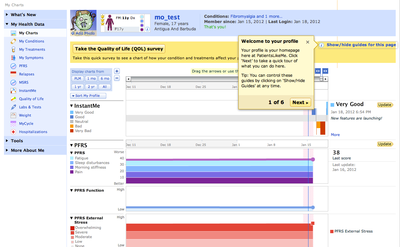 5) MyCycle
In addition to the changes above, we've also added a new feature called MyCycle. Menstrual cycles can have a big impact on lots of health conditions and having the ability to track periods has been one of our most requested features. We're excited it's finally here! MyCycle is available to anyone who has selected "female" as their gender in basic info.