PatientsLikeMe Newsletter Issue 28 - October 2009
MONTHLY MUSINGS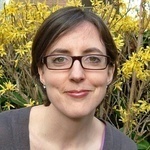 Autumn snuck in and brought another change in scenery, as your photos in the forum have shown. But what about you - are you changing too?
One member recently shared his newfound determination to see the positive in this inspiring thread. He says, "Instead of lamenting the fact that I have ALS, I have tried to change my outlook. Instead, I make myself think how lucky I am that I was chosen from 150,000 people."
Have you been able to shift your own perspective? Chime in on this great thread about the lessons you've learned from your journey.
--Emma Willey, Community Manager
JOIN THE CONVERSATION
Check out some of the hot topics in the forum. Then jump in with your own questions and answers!
What's the correct way to get an FVC check?
Forced vital capacity (FVC) is a key test for ALS patients. But who should perform it? And should both the staff and equipment be consistent each time? Get answers here.
Getting help so you can live independently
If your spouse needs to work outside of the home, what are your options for finding help with feeding and toileting during the day? Share your ideas and experiences.
Sensory disturbances in ALS
Have you experienced unexpected sensations in your feet, hands or otherwise? Sensory problems are a lesser known symptom of ALS. Describe what it feels like for you.
DynaVox versus Eyegaze Edge versus Tobii
It can be hard to decide on a speaking/typing device. Which one do you use? Share your personal review, and if you can, update your profile so others can locate top user tips.
GETTING TO KNOW YOUR PALS
At PatientsLikeMe, we believe in getting to know the person, not just the "patient." That's why we interview PALS each month to find out more about how they approach life. This month we are pleased to feature LianneGoes, a three-star member from Goes, Zeeland, The Netherlands, and Arkann, a three-star member from Mascouche, Quebec, Canada.
INTERVIEW ONE: ARKANN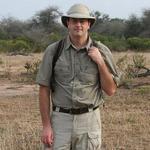 1. What puts a smile on your face?
Pretty much anything. Morale is good. I'm still able to do many of things I want to do, and progression is slow enough to let me adapt and take things in stride. The other variables of my life are pretty good, so that helps a lot. The latest source of lasting happiness/satisfaction was a long discussion last evening with someone I did not know about various topics, including travels. I am also one week back from a trip to France. My young daughter is another source of great pride and joy.
2. What obstacles have you overcome recently?
Using a wheelchair in Paris. That was the first time I used a wheelchair for real. The first two weeks, I had someone to push me. The last week, I was on my own, and it was both harder and easier than I thought. Cobblestones were not nice, but rolling on too-sharply-sloped sidewalks was worse. Surprisingly exhausting. I'm fairly sure the sidewalks in my area are not as bad (well, when not in winter), but it was an eye-opener.
3. How would you describe your attitude on life?
I would say I have a pragmatic attitude, mostly. Somewhat optimistic. On the latter, more in the sense that I think we will be able to deal well enough with the disease's progression. We know where we are going, and are controlling what we can. We are trying to be ready in advance of each step. We are trying to make sure that my wife will have all that she needs for things to be as "easy" as possible. I'll be as light as I can be. It will still be tough, but... we'll deal.
4. What features of PatientsLikeMe do you use most?
Without a doubt the forums. I came to PatientsLikeMe looking for the progression tracking tools. I had tried to find forums, and did on other sites, but none were very active or had much in the way of useful information. The comment greetings left by other users to a newbie surprised me, enticed to look deeper, and that was a game-changer for me. I had limited information before, and suddenly, everything I wanted to know, and a few I did not know I needed to know, were there at my fingertips, complete with lots of people at various stages of progression to chime in with advice if I had questions.
I came to PatientsLikeMe a few weeks prior to my final diagnosis, when I knew the least and most needed information. I found solutions, not always good or fun ones, but solutions, to the problems that most scared me. It allowed me to put check marks next to most items on my worry list. Very, very helpful. It also showed me people a lot more advanced than I, who are finding ways to live a worthwhile life. In such a case, you tell yourself that if they can do it, maybe you can, too.
INTERVIEW TWO: LIANNEGOES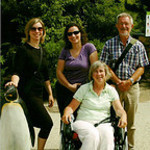 1. What puts a smile on your face?
If we are eating out with our children or with friends I can enjoy immensely. Eating and talking are still easy for me, and I like to do those activities as often as possible.
Also, I love good humor. So a movie, a standup comedian or the adults-only humor thread on PatientsLikeMe can put a big smile on my face. I have been seen laughing out loud while reading some of the posts there. It gave me aching abdominal muscles. A great workout!
2. What obstacles have you overcome recently?
I had my diagnosis on April 7th of this year. I could walk, stand up and cycle at that time. Now six months later I can not walk or stand anymore. So I had to learn to live with disabilities. Thanks to my wheelchair, mobility scooter and transfer board, I manage to get around. But it is difficult to adapt to all those limitations in such a short time. I had to get used to the fact that all my activities take so much time and that I need help now with those simple things, like getting dressed.
3. How would you describe your attitude on life?
To be alive is a miracle. I have had a very good life till now. I have always considered myself as being born with a silver spoon in the mouth. Now I am 54 years old, and I think, whatever will happen in the future, this has been a good life. And my greatest happiness is that I have children, who are adults now. For the rest: it is not important how old I will be, but it is important that I had a full and good life. I enjoy the beauty of nature, of the wind on my skin, of the birds in the garden. Death does not frighten me. But I am frightened by the idea that in the future I will be paralyzed and dependent for everything.
4. What features of PatientsLikeMe do you use most?
I am reading the forum every day. There is so much friendship and information in the forum. I know no other forum that is so easy to use as the one on PatientsLikeMe. Some threads I like very much, like the humor threads.
I subscribed to the thread on the Monterrey Stem Cell procedure. Even though I don't believe this treatment will work, it is such an enthusiastic bunch of people that are taking part in this procedure that it is a pleasure to read their posts. And they may be right after all. And the thread about Steve's ALS residence is one of my favorites. Great what some people can achieve. Also all my day-to-day problems are the same for all PALS, so most of the time I can find a post with an answer for every question I have.
For the rest I like to browse in the research section. I like to update my progression, so I can compare my condition with other PALS. I also like to look through evaluations of different treatments. I just love the way all the information is put together in statistics and graphs.
WHAT'S NEW AT PATIENTSLIKEME
Forget medical privacy? Yes, that's what he said. Don't miss the latest buzz-worthy article about our Chairman and Co-Founder Jamie Heywood and PatientLikeMe's groundbreaking vision in last month's WIRED Magazine. It was featured as part of an annual WIRED series called The Smart List: 12 Shocking Ideas That Could Change the World.
As further evidence of PatientLikeMe's growing role as a thought leader, Jamie recently gave a "rapid-fire presentation" on the future of medicine at the 2009 Gov 2.0 Summit. Check out the five-minute video on YouTube and feel free to add a comment with your own thoughts about what helps patients achieve the best possible outcome.
In June, we announced our new partnership with global biopharma company UCB to develop a new community for people with epilepsy. We're now pleased to report that in just a few weeks our Epilepsy Community will be soft launching. We're excited to give epilepsy patients a voice in advancing research. We're also gratified to partner with a company that aligns with our core values - something that's very important to us, as we've blogged about previously.
Check out our recent interview with UCB's Vice President of Clinical Research, Peter Verdu, MD, to learn more about UCB's patient-centric approach. This PharmExec.com article also does a good job of explaining our partnership. Finally, make sure to tell anyone you know with epilepsy about the new community and to send us any feedback or questions you have about this partnership.
Newsletter archive
Jul 2013
May 2013
Apr 2013
Mar 2013
Feb 2013
Jan 2013
Dec 2012
Nov 2012
Oct 2012
Sep 2012
Aug 2012
Jul 2012
Jun 2012
May 2012
Apr 2012
Mar 2012
Feb 2012
Jan 2012
Dec 2011
Nov 2011
Oct 2011
Sep 2011
Aug 2011
Jul 2011
Jun 2011
May 2011
Apr 2011
Mar 2011
Feb 2011
Jan 2011
Dec 2010
Nov 2010
Oct 2010
Sep 2010
Aug 2010
Jul 2010
Jun 2010
May 2010
Apr 2010
Mar 2010
Feb 2010
Jan 2010
Dec 2009
Nov 2009
Oct 2009