Male, 49 years
Algoma, WI
See less
---
About hurtinallthetime
Aside from the Fibromyalgia; I am also a patient that has had to have several surgeries to remove bone tumors off of the Long End of my my Femur bones in both legs. In my left hip I had a large bone tumor that was an osteosarcoma. I JUST had surgery December 14, 2011, on my Right knee. In that surgery the Ortho Surgeon had to remove a beginning of another bone tumor) as well as shave the lower end of the Right Femur and top of the R tibia. Hurts from the surgery, but sure feels A LOT BETTER now that all the "crunchy-ness" of the loose body cartiledg
In addition to the information I entered above, my weight has dropped by about 70 lbs. (WITHOUT EVEN TRYING)  ... I just have no appetite and/or interest in eating.  Yeah, it's great to be able to fit into old cool clothes that I used to be able to wear, but I (and my Dr.) cannot figure out the reason for the dramatic weight loss when I am NOT exercising or TRYING to drop weight.  Just so down in the dumps that am considering suicide as a way out of this "HELL" of life.  It just doesn't seem worth going on.  Just went through the WORSE HOLIDAY SEASON in my entire 43 years.  No Money, financial worries.  Problems with everything.....Just doesn't seem worth going on.
UPDATE:  01/07/12:  As you can see, I DIDN'T DO MYSELF IN.  Actually have been starting to feel a LOT better this week, but need to see my Dr. on the 9th of Jan. to get my meds adjusted and to have him schedule an MRI for me.  Have been having A LOT OF PAIN in the Left shoulder for about a month now....thought at first I just pulled a muscle of something, but pain isn't going away and is getting worse, so I'm thinking either a rotator cuff tear or the start of another bone tumor.   Either way, the MRI should tell as it did with my knee in Nov. and I had surgery on it in December.  LOST TWO FRIENDS that passed away this week and feel bad about that, but know that God has taken away their pain and they are both at peace in Heaven enjoying the splendor for eternity with no more pain.  One died of heart problems and he was  only 42 and it was unexpected and the other was very ill of kidney failure and other ailments for quite some time and he was 63.  Both of these guys will be sorely missed by me though.  So my wife and  I will be spending the weekend going to two funerals....NOT FUN (I used to be a Floral Designer before  becomming disabled, so am "coming out of retirement" today to go to the place I used to work at to design the floral sprays for my two friends.  I feel honored to do it, but it sucks that I have to do them sitting down, because that's harder to do because it skews your perspective of the design and makes it difficult to see everything.  But it is the least I can do at the family's request.  RIP Ben and Dave....Will miss you guys.
And ...I hope this doesn't make me sound like an Ass, but have been getting A Lot of mssgs from ladies seeking me out as more than "chat friends" to talk about our illnesses or conditions (WHICH I AM VERY VERY OPEN TO AND MEETING NEW  PEOPLE OF EITHER SEX THAT ARE EXPERIENCING THE SAME TYPE OF THING AS ME), but I am happily married coming up on 17 yrs. this year, so I'm thankful and flattered if you're writing to me for MORE than a chat friend relationship, but I'm afraid I'm off the market for anything more than that.  But again, ladies, THANK YOU for flattering me by asking!
By the way, forgot to mention that I have a service animal.  His name is "Caesar Armani Prada 'del Palazzo" (which in Italian is King Protector of the Castle)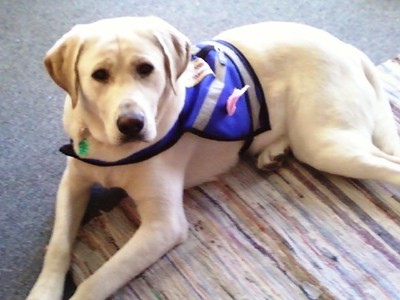 Then here is a water colour painting I did of him now.  He will be 2 in April......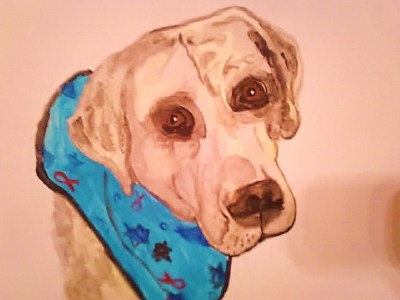 Best wishes to you all....I'm really glad I'm starting to feel better!
Happy New Year and God's Blessings to you,
Jay Mario Palazzo
Activity
Comments: 2 updates, 0 for others

Member since: Jan 04, 2012
Last Login Jan 19, 2012