1) Quick start for new patients
New PatientsLikeMe members will taken through a "quick start" guide that will help them get their profile set up quickly. This guide will ask a new member to share their age, gender, conditions and treatments before they start to use the rest of the site. We hope this will make it quicker and easier for members to find patients like them and fill out their profile.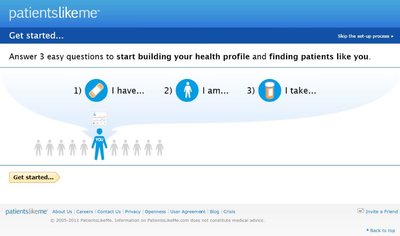 2) Treatment confirmation and update
Many of you might notice that the next time you log in, you will be asked to confirm or update your treatments. Making sure your treatment data is up to date is important and so every 3 months we will be asking you to confirm your treatments and ask if you have added any of a list of commonly prescribed treatments for your conditions. This confirmation should only take a few minutes and will help you keep your profile accurate and up to date.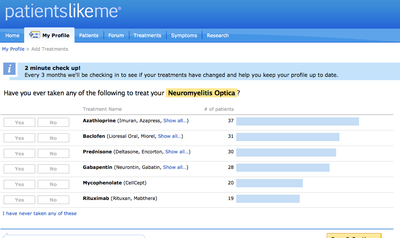 3) Weight charts now support ounces
You can now share weight scores in ounces. If you want to track every half pound, or you are maintaining for a profile for a young child, you can now use the ounces field on the weight charts to chart those details.



4) Condition description on condition pages
Ever come across a patient with a condition listed on their profile that you have never heard of? Now when you search for patients, you can click through to the condition page and see a short description of each condition.