1) Psoriasis features
We have several new features available for PatientsLikeMe members with psoriasis.
The Dermatology Life Quality Index (DLQI) is a new survey that will help you measure the impact of psoriasis on your day to day life.
When you answer these 12 questions, you will get a graph of your results on your profile charts so you can see how things change over time.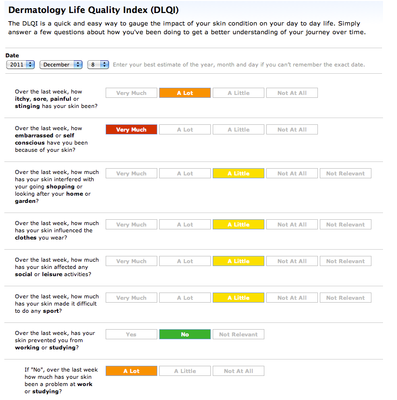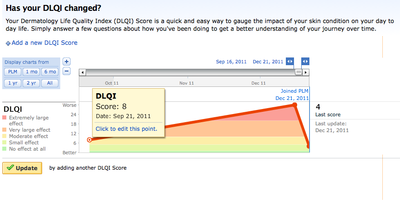 Body Surface Area (BSA) is a lab that measures the percentage of your skin that is affected by psoriasis. Your palm represents about 1% of your body surface area so you can use the number of palms you think might be affected as a good proxy to estimate the percentage of your body affected.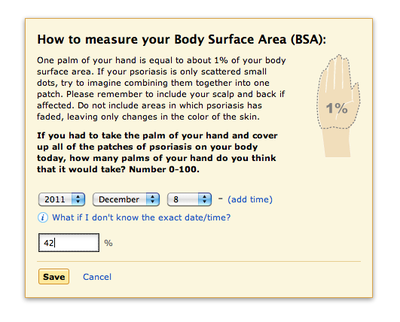 Psoriasis nugget
Patients who list psoriasis as their primary condition will have a new patient icon or nugget. This icon incorporates the latest DLQI and BSA scores, along with your age, gender and latest instant me status.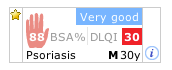 2) Guides
You may have seen guides on the treatment history page before, but now we've redone them to only show one at a time. These guides will appear automatically the first time you visit the page, and you can either dismiss them right away, or get them back later by pressing "show guides" at the top of the page.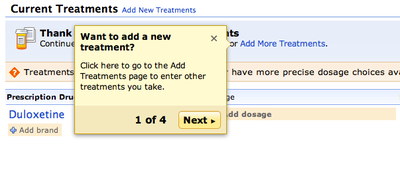 We hope to add guides to many other pages soon.
3) Sortable labs
A few weeks ago we launched the labs feature. As more labs get added we realized many of you wanted to sort your labs in the order that made most sense to you. So now you have 2 options you can drag and drop them into any order you like, or you can hit the arrow to move any lab to the top of the list. So if you have one lab you update more frequently (say blood glucose) you can move it to the top of the list for easy updating.