1) "LAST FORUM" FEATURE AND SIMPLIFIED SIDE MENU
When you go to the forums tab, you'll no longer have to search through all of the forum listings to find the one you want. Now you'll be taken straight to the last forum you were in. If you're new to the site, we'll pick forums for you based on what you've shared in your profile (i.e., primary conditions, etc). You'll also see the number of unread posts and a preview of the latest reply.
It's also easier to navigate between forums. Just use the simplified side menu to the left of the page. Here's what it will look like:
2) FORUM ACTIONS
In each Forum, you'll now be able to more take more actions on the first page at the topic level and at the tag level. Here's a sneak peak:
3) INTRODUCING "MY TOPICS" AND "MY FORUM SETTINGS"
We've added a new My Topics page in each forum, so you can see all of the topics you care about in one place. This includes topics you follow (which means new posts will appear in your feed) or have an email alert for. We've also merged existing "favorites" into "follow," and the option to "favorite" a topic will no longer appear.
We've also added My Forum Settings to more easily customize your experience. You can use My Forum Settings to join or leave a forum room, see the conditions associated with a forum room, and manage your favorite and hidden topics.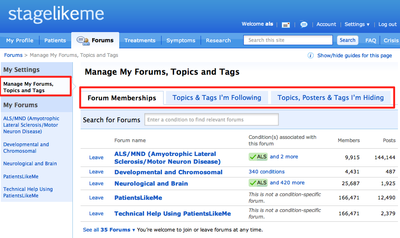 4) SAVED DRAFTS FOR FORUM REPLIES
Lastly, we've added the function to save a draft of your forum replies!