What's new? Well for starters, this page.
1) Release notes page: We added this page so that after each release, we can tell you what's new. This will help us communicate better with all our members about how and when things change and keep all the info in one place, rather than hoping you catch a forum thread that describes the updates.
2) We also have an updated treatments page. The old treatments page was just a list of treatments. Now we have presented some new information on the top of the page and made the categorization of treatments more prominent. You can still use "browse" tab at the top of the page if you prefer to see something very similar to the old version, or if you want to browse treatments alphabetically.
When you are logged in using a patient account, you can see green checkmarks next to drugs that you take, which helps give you a bit of context about how you fit in with the rest of the community. For instance, here is the page from the perspective of a Parkinson's patient.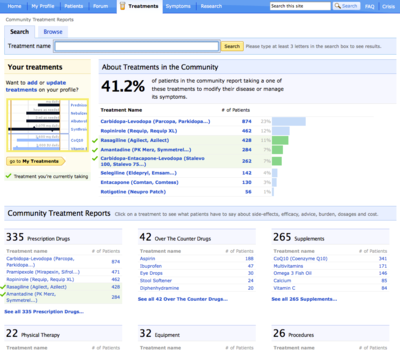 3) In our MS community, we've added flash charts to your profile page. You can read more about the flash charts and why we've decided to make this change over on our blog (from when we changed our ALS community over to flash charts) and in this profile charts screencast.
Before flash charts: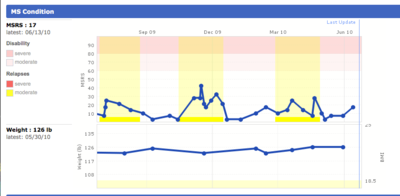 After flash charts:

4) In the epilepsy community, we added a feature so that patients who are well-controlled can use the seizure meter to capture their seizure-free periods easily.

5) We also fixed a lot of bugs. Here's a small sample. :) We fixed some advanced search problems that a mood member alerted us to, a "patientslikeme" error that an ALS patient found, figured out why an MS member couldn't load her profile page, and fixed an issue where a PD forum thread was being blocked even after the blocked tag had been removed.