1) QOL for all patients!
Today we are making a new outcome score available to all patients- Quality Of Life. This measure was previously only available to patients in the Organ transplants, epilepsy and HIV communities, but now all PLM patients can take this quick survey to see how your social, mental and physical quality of life changes over time. For instance, here are the social functioning questions:


Answers to your QOL questions will appear on a profile chart: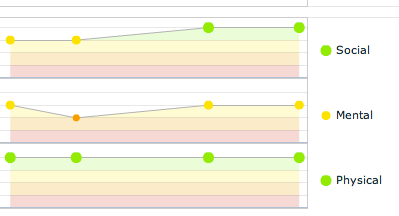 While all everyone's icons remain the same, if a patient has completed a quality of life score, the score will appear on the nugget rollover for all members except mood. For instance, here is a sample Fibro/CFS patient who has completed a PFRS score and a QOL.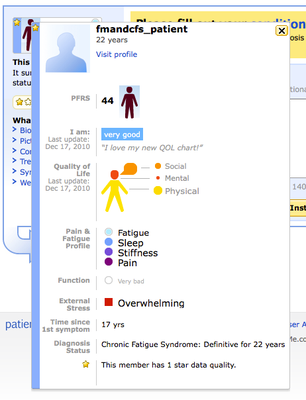 2) PRO chart changes in epilepsy
On a related note, because everyone is eligible to take QOL whenever they like, we are not showing the PRO scores on the QOL chart anymore in epilepsy. We will continue to show the PRO prompts, the status bar on the profile page header, and all the other relevant PRO steps, but the charts are now separate. You can still see your PRO chart on your PRO summary page.
Before:

After:

In addition, the stickman in the nugget used to pull from PRO data only, but now will be populated by the QOL. So you may see many grey QOL nuggets in the epilepsy community until members start filling in their QOLs!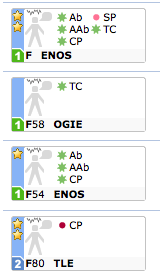 3) Profile chart sorting
Now you can sort your profile charts and put them in any order you like. You can drag them in the order you want, or use the numbers to indicate your preference.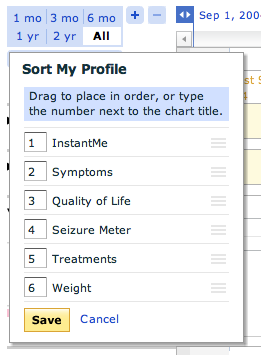 We'll remember your preferences (open or closed and the order of the charts) for your own profile page every time you log in. You can sort other member's profile charts as well, but we won't save the order - we'll always show you the charts in the order the owner of the charts specified.
4)Extended basic info questions
There are a few new questions on your basic information page. Previously we only asked extended demographic information in the transplants community. Now we'll ask everyone those questions about their race, ethnicity, insurance status and education. These questions are required for you earn your basic info star, but each of these questions has "I prefer not to answer" as an answer choice.