PatientsLikeMe Newsletter Issue 21 - February 2010
MONTHLY MUSINGS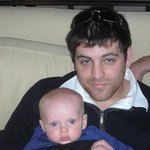 Hey everyone! It's been a great first month as your new community moderator.
Ever wonder how the data you're sharing on your profile (you know, the stuff that earns you three stars) is changing the course of healthcare? Hear it straight from Co-Founder Jamie Heywood. His powerful video presentation from the TEDMED Conference, called "The Big Idea My Brother Inspired," takes you on a journey from the company's earliest days to the groundbreaking learning happening today.
Here's a brief excerpt from the video thanking all of you:
"I have to thank the 45,000 people that are doing this social experiment with us. There is an amazing journey we are going on to become human again, to be part of a community again, to share of ourselves, to be vulnerable, and it's very exciting."
I also want to thank you for the questions you've been sending me (such as "How you do you add topics to My Favorites?"), as they're helping me learn as well. Keep them coming!
--Aaron Fleishman, Community Manager
JOIN THE CONVERSATION
Check out some of the hot topics in the forum. Then jump in with your own questions and answers!
Lamictal and "the stupids"
Have you experienced fogginess or other cognitive issues while taking Lamictal? Did they wane over time? Share your experiences with these and other side effects.
A quick way to improve your mood
Need to turn your day around? Just list three positive things in this uplifting thread. It only takes a minute, but you may be amazed how long the feel-good effects last.
To medicate or not to medicate?
Join the debate about the use of anti-depressants. Many find them invaluable. Others have discontinued them for various reasons. Where do you stand?
Express yourself with more than just words
Don't miss this long-running photoblog that's become a real treasure trove. Since "a picture is worth a thousand words," why not show us how you're feeling today?
GETTING TO KNOW YOU
At PatientsLikeMe, we believe in getting to know the person, not just the "patient." That's why we interview patients each month to find out more about how they approach life. This month we are pleased to feature toledogranny3, a three-star member from Ohio.
1. What's on your mind these days?
I have a wedding coming up in my family in May and that's what is taking up most of my time-both mentally and physically. All the preparation and planning is very time consuming. But I love it.
2. What do you like most about winter?
During the winter, I tend to hibernate. But it also gives me time to get things done around the house and take up new hobbies. For the last few weeks, I have been painting my apartment. I've started knitting and crocheting, and I've also started reading the Bible in "365 days." I'm not a "snow bunny," but I enjoy winter in my own way.
3. How do you keep perspective with your condition?
I have a good support system, which includes a wonderful therapist, family, friends and church. I try to read up on my "condition" and what new meds have come out to treat it. One thing I've learned recently is that: I'm not bipolar. I have bipolar disorder. (Just like people aren't diabetes. They have diabetes.) I also try to keep a sense of humor about the whole thing.
4. Share why you decided to make your profile public.
If my profile can reach out to other people-that's great. If they can see themselves in me, then they will find out there is hope and help out there for everyone. I've made a lot of progress, but it took me a long time to get to the point where I'm at. And I'm sure I have more to learn.
WHAT'S NEW AT PATIENTSLIKEME
• Today, PatientsLikeMe announced the acquisition of ReliefInsite, a pioneering online pain management company. More than 20,000 of the patients across our communities report experiencing pain, and we want to help you manage that pain more effectively. Over time, we'll be integrating ReliefInsite's technology to help you do just that. For more details about the acquisition, check out our press release.
• Know someone with epilepsy? Last month, we officially opened the doors to our new Epilepsy Community at PatientsLikeMe. Read all about it in our press release and don't forget to invite anyone you know with epilepsy to join us today.
• Another year, another great round of publicity. In addition to all the recent buzz around Jamie Heywood's TEDMED video, PatientsLikeMe was featured last week in TIME magazine ("Group Therapy"). We also hit the airwaves when Co-Founder Ben Heywood gave a special interview on MyGreatKid Radio (WAAM 1600).
• Got a disease-related walk or run event coming up this spring? PatientsLikeMe will sponsor you! Check out our new webpage about the program and sign up today to have us outfit and sponsor your team. (For those who participated last year, we've given our walk/run sponsorship program a snazzy new name and logo - PatientsLikeMe in Motion). Put your team in motion today!
• Whether you are walking at a charity event or not, we know many of you have asked for tools to help you spread the word about PatientsLikeMe. Fortunately, new 2010 Tell the World flyers are now available for download at the Tell the World page (bookmark it!). Hand them out at your walk/run events, support group meetings and more. And if you're ready to go 2.0 in your efforts, we also offer PowerPoint slidedecks about PatientsLikeMe. A big thanks to all of you for telling the world who we are - and what we're trying to do.
THIS MONTH'S SITE IMPROVEMENTS
We are constantly working to improve our site. In this section, we'll keep you up-to-date on new tools and features designed to make your PatientsLikeMe experience even better.
Here are our top functionality enhancements for February:
• Want to dig deeper into someone's past treatments? You can now view another member's treatment history by clicking on the treatment graph in their profile. As long as that particular treatment is not private, you'll be able to see the member's full history and experience with the treatment.
• Feed your profile with precision. We've now made it easier to find information on the feeds that appear on your Profile page. Click "Feeds" to see your latest updates, what your subscriptions are and who is subscribed to those updates. You can also see different views of your feeds (i.e. all, members, forum, treatments, your own.)
• Like our PatientsLikeMe Picks feature? Well, it's even better now. We've combined it with the Forum Spotlight section, which means there are even more "don't miss" posts for your perusing pleasure. Find out which topics really grabbed our staff - not to mention our members.
• If you are the caregiver of a child under the age of 13, you can now create a profile for him or her at PatientsLikeMe. Here's how: enter the child's correct date of birth when creating the profile, and we will then ask you to confirm that you are an eligible caregiver. If you say yes, you'll be allowed to save the date of birth and corresponding profile.
• Get ready to chart a new path. Thanks to your suggestions, we are looking to make some major upgrades to PatientsLikeMe's profile charts. A number of improvements are being piloted in the ALS Community now, and once we test and refine them, we hope to roll them out to our other communities soon. Learn more about our new charting functionality in Co-Founder Jeff Cole's recent blog entry.
Newsletter Archive
May 2013
Apr 2013
Mar 2013
Feb 2013
Jan 2013
Dec 2012
Nov 2012
Oct 2012
Sep 2012
Aug 2012
Jul 2012
Jun 2012
May 2012
Apr 2012
Mar 2012
Feb 2012
Jan 2012
Dec 2011
Nov 2011
Oct 2011
Sep 2011
Aug 2011
Jul 2011
Jun 2011
May 2011
Apr 2011
Mar 2011
Feb 2011
Jan 2011
Dec 2010
Nov 2010
Oct 2010
Sep 2010
Aug 2010
Jul 2010
Jun 2010
May 2010
Apr 2010
Mar 2010
Feb 2010
Jan 2010
Dec 2009
Nov 2009
Oct 2009