Female, 24 years
big stone gap, VA
---
About *amyk*
Newly diagnosed with MS, but optimistic and having fun with my life!
On May 25th 2011 I was diagnosed with MS. This also happens to be National MS Awareness Day. There are also 3 other personal (two good, one very bad) things that have happened on May 25th in the past few years, so needless to say from every May 25th from here on out, I will not speak to anyone and hide in my apartment that entire day. lol
My first symptom was in February of 2011. I woke up one day and the tips of my toes were numb. Within 3 or 4 days I was numb from the tip of my toes to the middle of my back/abdomen. I went to an ER and they diagnosed me with a pinched nerve and sent me home with steroids and Motrin. I assumed it was a pinched nerve because I've worked long hours in a call center for a few years. The numbness went away around the beginning of May.
I found out I had MS after I was diagnosed with optic neuritis. One morning I had a little gray speck in my vision, within a few days my entire field of vision was a grey/black blur. It really messed with my depth perception/walking abilities. I went to an ER where I had a head CT scan and a lumbar puncture. The lumbar puncture was the scariest thing in my life because the thought of a needle going into my back/spine has always terrified me (which is stupid because I have 9 piercings). I almost vomited then almost passed out because I think this was the ER residents first one he ever performed. I was on the table for thirty minutes compared to the usual maybe five minutes? They couldn't give me a definite diagnosis at that time because there were mixed results of the lumbar puncture, so I was sent to a bigger hospital by ambulance. I received a head MRI where they found 2 lesions on my brain then I received a spinal MRI where they found two lesions on my spine. Then I was diagnosed.

I was very scared and avoided even conversing about MS when I was first diagnosed. I was 21 and felt like my life was over before it had even started, which was funny because I really had now idea what MS even was. I put off taking my shot for almost three months because I was in complete denial I guess. But I am now taking Copaxone and have since August 25th 2011. I don't exactly feel any effects from the shot besides the usual redness/itching/bruising at injection site. I have migraines/headaches, and used to be very depressed but I believe being diagnosed has given me a new outlook on life once I learned to accept it, or it could be the good anti-depressant I'm on, who knows. But I've been looking for a website like this for a long time because there's only one other person in my family with MS and we unfortunately do not speak. Shared Solutions connected me with a very nice girl through their "peer connection program" in Florida who was diagnosed a while back and I can thankfully talk to her about our situations. I am looking forward to hearing other patients stories.
I gotta mention my dog Marley (named after Bob, not the movie). He's a jack russell/yorkie mix and the cutest, most loving, intelligent dog I've ever seen. I could not have made it through the past year if I didn't have him by my side.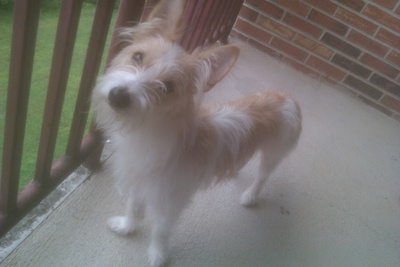 Profile Activity

1,089 Views
Member since: Nov 27, 2011
Last Login Mar 26, 2012