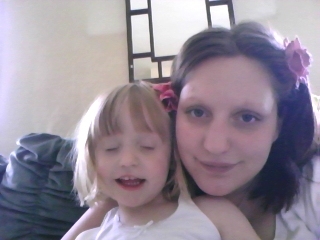 Me and My princess Suzi.
I had my first liver transplant 13th September 2006. I had not been ill in the run up to me needing a transplant, I just got up one morning and felt very unwell. I went to my own GP who sent me to my local hospital.. There first thoughts were that I had a virus and kept me in to observe me. By the next morning I was going down hill fast and was moved to the HDU department. It was there that they did a full blood test which showed them that my liver was on its last legs. I was air lifted to Scotlands liver unit, rushed straight in to ICU and placed in a drug induced coma to give the rest of my body to rest. Hours after arriving my family were told that I had 24 hours to live with out reciving a full liver transplant. I was then listed in the emargancy list and placed at number 1. I was lucky that before all this I was active and healthy and I was only 24. On the Monday morning my family were told that a liver had become available and they begin to get me ready for theatre. On the arrival of the liver the team looked over the liver and decided that it as not in good enough condition for me and it got transplanted into someone els. At this point my family had given up hope on them being able to find another liver in time for me and the doctors advised my family to say there good byes. Well anyone that knows me will tell you that I am a fighter and i proved the doctors wrong, I held out until Wednesday and finally my parents got the good news that they were hoping for and I got my new liver. After receiving my new liver I went from strength to strength and I was allowed home 16 days later. Just before my transplant I had been living in London (where I was born and grew up) but I had just moved 600 miles to be closer to my sister in sunny Scotland. I had been staying with my sister for a while but had just found my own place. Knowing that I was not going to be able to cope on my own for a while, I gave up my flat and on my discharge from hospital I went to stay with my sister again. She had been so kind and turned her dinning room into a bed room for me as I was still having trouble with the stairs. With the love and help of my family I was able to come to terms with what I had been through and made a full recovery. Unfortunately my story does not end there, 7 months after my transplant, I found out that I was 20 weeks pregnant and again I was rushed to the hospital where I had my transplant. After a ton of test and a shed load of worry we found out that the baby had not been harmed by any of the treatment that I had been receiving for some rejection and had not been harmed by any of the medications that I had been taking like MMF. Less than 10 weeks after finding out I was pregnant I gave birth to my little angel Suzi.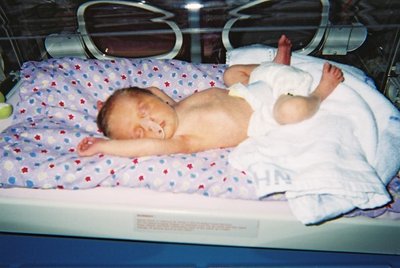 Suzi 2 days old.
Suzi had to spend 14 days in the scbu, but it was only her feeding that kept her there, she had no other problems. Even though my liver team had not been happy about me falling pregnant, they were over joyed that I and the baby were both able to leave the hospital together. They then told me that they had never seen some one have a liver transplant and then go on to have a healthy baby and both mother and baby to leave the hospital all in the space of one year before. When Suzi was just a few months old I was taken into hospital and after intensive tests and treatment it was found that I had chronic rejection. From that point things with my health have gone down hill. It was slow at first but by the end of last year and another long stay in hospital I found out that on top of the chronic rejection I also had auto immune hepatitis. The doctors battled to try and get things under control but things came to a head a few months ago and I was told that I was going to be listed for another transplant. I wont lie and say that I took the news that great, or my family but we are slowly coming to terms with things. I try try and stay positive and try and not let it run my life. I have been so lucky in the past four and a half years, my luck started when I was given my life back by my doner who gave me the ultimate gift of her liver and since then I have met some fantastic people. I am lucky that despite everything I have a fantastic daughter, who is my reason to keep going and gives me the reason to fight. Ten months ago I found the love of my life Colin, who took a chance on me and has been fantastic about all my medical problems and has taken to Suzi like she is his own. I really can't wait to marry him in January, we are getting married a year to the date we first met, some may say that it is too soon but what I have learnt since having my transplant is that you never know what is going to happen so if you find happiness then grab it with both hands and sod what everyone els thinks.
Well that is the story so far. I hope it has not been to boring for you, I shall keep updating as my story continues. Thanks for taking the time to read about me.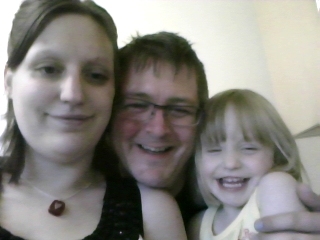 Me Colin and Suzi.