Here is my story.
I was born with hypo-plastic kidneys, and defective ureters. Urine was backing up into my kidneys, and causing them to fail. My parents took me to multiple hospitals because I had become really dehydrated one morning. One hospital said to get a priest cause I was going to die, and that there was 0 chance I would make it. My parents didn't believe it, and weren't having that. My uncle told them to go to Albert Einstein College of Medicine. They told me I most certainly had a chance that I would live, only if I had a kidney transplant.
My parents were tested for kidney matches, and both were very compatible. My dad decided he would give me his kidney. So on October 31st 1988, I had my kidney transplant. I was 22 months old. Everything went very well. And my parents told me this which I find absolutely amazing. Now of course at 22 months old, how could I possibly know anything about God? But they said that after the surgery I turned to my mom and said "mom it was all snowy" And my mom said "what are you talking about?" I said "it was all snowy and white and I was sitting on God's lap and he told me that everything was going to be ok." Now that's what I call a miracle. And to this day I still believe I am very blessed, and protected by god, and angels. I was baptized twice. Once cause they though I was going to die, and second for a regular baptism. So I believe I am very blessed, and protected, cause there has been many times where my life has been spared.
After my transplant, I was in a few papers, and I was even a poster child on trains and buses. I was the youngest person at the time to receive a kidney transplant, so that's the reason. I will put pictures of those on the bottom of my bio. I have lived a pretty healthy life. I've only had one rejection episode, when I switched from Cyclosporine, to Neoral. After that I was put on Prograf, and have been better since.
From when I first had my transplant, till about 18, I went to my original renal doctors. Which meant at one point going all the way to the Bronx for blood tests on a weekly basis. I then after 18, I started seeing my now current doctor in Staten Island, cause I was now old enough. That is when I was diagnosed with hypertension. I was diagnosed with stage 1 right on the border hypertension. But it's been under control. That's also when I was put on calcium, and magnesium. My doctor said I should of been on those from day one, and she doesn't know why my original doctors didn't put me on them. She said because I haven't been on them, I was now borderline osteoporosis. But other than that, everything has been pretty good, and I've been pretty stable. That's about all I can think of for now. Now for the pictures:
Here's a sign my dad put together for when we go to car shows. The poster on the left is the poster I was on in trains and buses. The article on the right is the newspaper article I was in.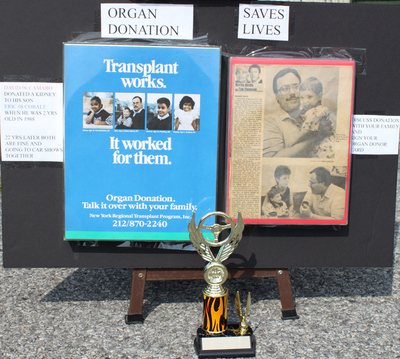 Here is a picture of me and my surgeon. I don't remember where we were but it was some kind of convention thing.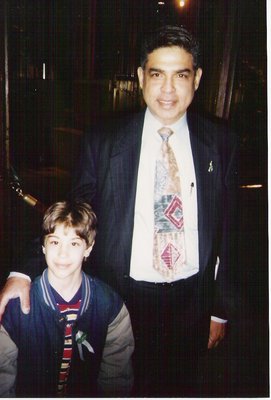 And here's a recent picture of me: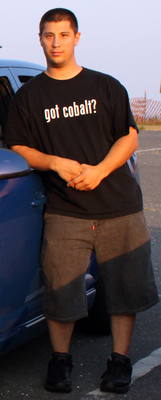 After my transplant, the doctors gave me a stuffed animal of snoopy. I still have him, and he will forever be symbolic of my transplant. Here's a few funny pictures of him.