Male, 58 years
TAS, Australia
Primary Condition
Type

Secondary Progressive
First symptom

Diagnosis
Interests
---
About passdapastaplease
I was diagnosed in 1998 but had been suffering from undefined symptoms several years earlier. Initially I chose not to take medication instead have relied on prayer, supplementation and diet to regulate the disease. I am now wheelchair bound with limited mobility. I am married with a wonderfully supportive wife and we have five children. I was a carpenter/builder but am now on a disability pension. Blessings Steve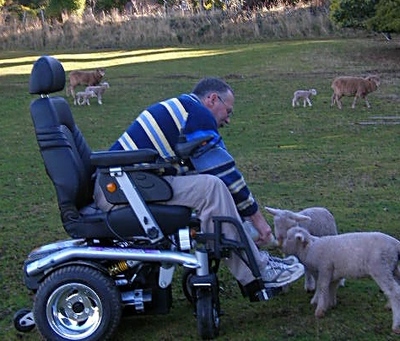 I am a committed church attending Christian but I'm far more concerned for my relationship with God than some cold, institutional edifice or monument to religion. Jesus only spoke of "Church" three times in only two discourses and not in any hierarchial sense, in fact he said that whoever wants to be great should be a servant to all. Pastor (shepherd) is only mentioned once in the New Testament (Eph 4). We are all called to be priests and kings unto God (Hebrews).
Whilst I do believe that we all will pass through times of trial (James 1) I also believe that the atonement (Christ's vicarious suffering on the cross) is remedy for the whole person for the span of their life ie: 3 score + 10 years (at the least). Meaning; Christ procurred for us wholeness for body, soul and spirit (Isaiah 53, 1 Peter 2:24, Matthew 8:17). Therefore I am actively seeking healing from this affliction whether by pill or prayer. What I am not doing, is saying; "I'll just accept this as God's will and suffer for His glory.
Jesus came to show us what God the Father was like and do His will, not his own (John 6:38). Jesus perfectly demonstrated God's will in relation to healing by "...healing all who were oppressed by the devil (Acts 10:38)." We find nowhere in the New Testament where Jesus left people to suffer, "he healed all" is expressed in many passages of scripture. Certainly people are not to suffer that by so doing they somehow glorify God. This is obvious by the passage in John 9 where Jesus although stating that; "...it was for my glory that this man suffered." He heals him (for Jesus' glory) rather than leaving the man blind.
Jesus said that; "the thief comes to rob kill and destroy but I have come that you may have life in abundance (John 10:10)." I have chosen to open the package from Jesus.
How does this declaration outwork (how do I put the wheels on it)? That is what I'm still trying to fathom.
None-the-less, I'm trusting in His promises because; "God is not a man that He should lie or a son of man that He should change His mind. Does He speak and then not act? Does He promise and then not fulfill? (Numbers 23:19)"
This positive mindset, trust, prayer and determination (I accept that at the moment I have limitations but I do not accept the legality of this affliction) is part of my treatment.
The "Christian walk" is a journey often with divergent paths, sometimes I feel I'm going around in circles doing 40 years in the desert but I also feel God would like me to have an ever-increasing reliance on Him rather than on myself. God often kicks self-reliance out from under me. When this happens I find myself floundering precariously but also closer to God.
Interests
Profile Activity

5,648 Views
Member since: Jun 01, 2010
Last Login Dec 10, 2013