Symptoms and Side-Effects
You can
add
a symptom or side effect by clicking on '
Symptoms & Side Effects
' in the menu bar on the left hand side of your My Profile page. Once there, you may be asked to update your symptoms if you haven't done that in awhile. Once your symptoms are up to date, you can add a new symptom or side effect by clicking on the yellow '+Add' button. This takes you to a search page where you can search through a list of symptoms and side effects. If you can't find the symptom or side effect you are looking for, you can add it as a new symptom or side effect by following the drop down prompt in the search field.
You can
delete
a symptom or side effect by clicking on '
Symptoms & Side Effects
' in the menu bar on the left hand side of your
My Profile
page. For symptoms, find the name of the symptom you wish to edit or delete and click on it. This will take you to a symptom history page where you can delete any symptom history information you had for that symptom. This will remove the symptom from your profile. For side effects, scroll down to the treatment you've attributed the side effect to and click on it. This is your treatment history page. Scroll down to the treatment history log and delete any entries made on the side effect you wish to delete. This will remove the side effect from your profile.
SYMPTOMS

SIDE-EFFECTS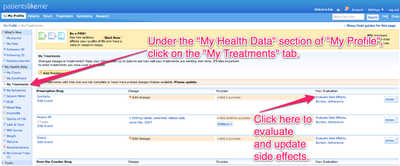 The database of symptoms, side effects, hospitalizations and treatments we use on PatientsLikeMe has been mostly created by patients. We try to balance the unique patient voice with the ease with which patients can share similar experiences. In order to do this, we organize and code existing entries and try to consolidate very similar or duplicate entries and send you a message to let you know we've made a change on your profile. Some reasons we might consolidate entries are: if it is misspelled, if it already exists in our database, or is the same as an existing entry but perhaps worded slightly different (ie. 'Pain in toes' and 'Toes hurt').

We welcome any feedback and encourage you to review your profile if you do get a message letting you know we changed something.
Like all information you find on the web or elsewhere, it is important to carefully compare it against many other sources. Our symptom and treatment reports reflect data that has been shared by the community. They cannot be guaranteed to be accurate, and they are not intended to represent complete information about a treatment, symptom, or condition.

You should use PatientsLikeMe as one more source of information in your quest to manage your disease. But always consult multiple information sources and, of course, your doctor.
---
Need more help? Email support@patientslikeme.com
Last updated: